An Inclusivity Unlocked! webinar
with Jonathan's Voice
Thursday 13 October 2022
12.30 – 1.30 pm
Attendees joined us for another of our Inclusivity Unlocked! events which we co-hosted with Jonathan's Voice.
Inclusivity Unlocked! is a banner under which we are hosting a programme of events and resources on workplace inclusivity post-Covid. Our aim is to provide practical advice and guidance about how workplaces and working arrangements can be made more inclusive for everyone as we build back after the pandemic.
In this event, we looked at how to support junior team members' mental health in the post-Covid workplace. In particular, we reflected on the results of our recent mental health survey in order to understand the current issues and challenges for early-career IP professionals. This shaped our discussions on how best to support new starters and trainees in all roles.
The event included a panel discussion and a Q&A session. The panel shared their experiences of working arrangements post-Covid and their ideas for supporting junior team members through these changing times.
You can find out more about the Inclusivity Unlocked! programme, and the other events we have scheduled, here. There's also an up-to-date list of scheduled and past events, with links to associated follow-up resources, here.
Meet the panel
Our panellists for this event included:
Follow-up resources
A recording of the webinar is available here, and speaker Penny Aspinall's slides – in particular about the 2022 survey results – here. You may also be interested in our report of the event.
Click on the images below to download some top practical tips we've distilled from the event, for organisations, individuals and managers.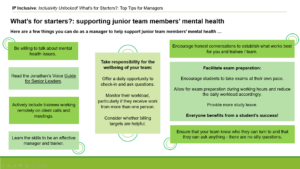 A list of all Inclusivity Unlocked! events and resources is available here, and a compilation of "top tips" here. If you'd like to have your say on themes or formats for future events in the series, please let us know via our short survey.
Cost
This event was free. So are all our resources. The Jonathan's Voice events and resources are also free at the point of delivery.
That said, both organisations do need money to keep the show on the road, so if you enjoyed the event please consider contributing. For more information, visit the IP Inclusive fundraising page or the Jonathan's Voice donations page.